FEDOG DIY 12v 48V Ebike Horn 12V 48Vdc Bell Super Loud Horn For Electrical Bike Electrical Scooter No Battery Inside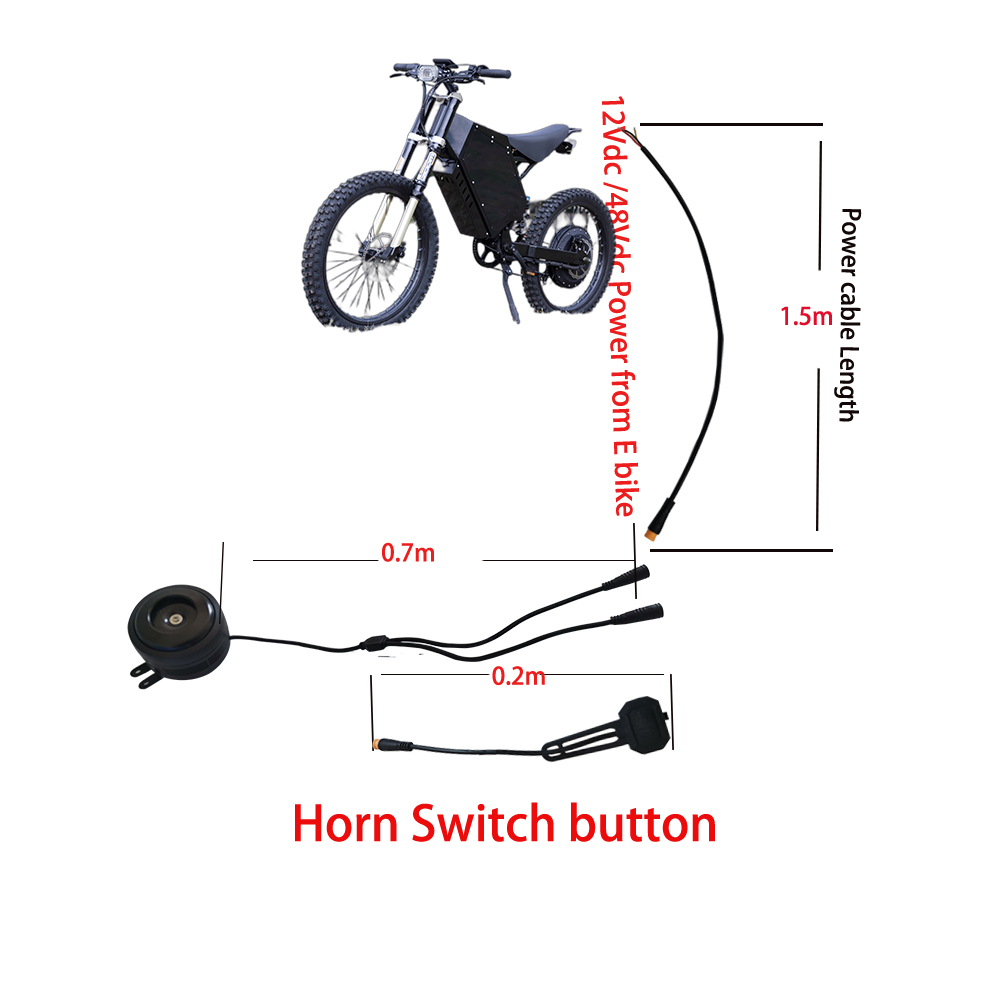 Why need so loud horn and alarm for bikes,e-bikes,E-scooters? 1. Warn smartphone-distracted drivers that you are coming! Sound the alarm when someone messes with your bike. 2. The horn is actually the same type used on motorcycles with all the electronics self-contained inside the unit. With the push of the button, the horn pumps out 118 decibels, alerting drivers of your presence. 3. This horn is a game changer and a must have for the faster Class 3 e-bikes which can approach speeds of 30 mph. This accessory will transform your ride, especially if you do a lot of streets commuting.
Our new bracket are all aluminium and can be mounted horizontal and also vertical
Our horn can fit all size diameter bikes and scooters
The diameter from 2.5cm to 5.5cm ,so you can mount it on all kind of bikes ,electric bikes, scooters and electric scooters
Two Big button for better control and more comfortable when usiing
IP65 water proof deisgn no worry riding outside
Our horn are full protected from water even the charging port are designed with water proof plug.
strong package for saft transportation
we use good quality box for long and complex transportation
Yes, we are the origianl manufacturer of the horn ,we own the brand FEDOG and the design of our F118 F119 horn and horn alarms , we own the patents .
2. Do you want distributors world around ?
Type:

Electric Horn
Origin:

Mainland China
Material:

Aluminimum
Model Number:

F116
Certification:

ce
Size:

125*58*65mm
Scooter horn color:

black
Scooter horn warranty:

1 year
Scooter horn Sound volume:

126db (1inch distance)
Scooter horn working voltage:

48Vdc
Dropshipping Available?:

Yes
Recent Reviews ( 17 )
ByCosmin VFriday, 03 February 2023
By Yoseph FriedmanThursday, 02 February 2023
just got ,seems good .will comment again later after use .
By Aleksandar SrbijaWednesday, 01 February 2023
Byalex.novikovTuesday, 31 January 2023
ByMartin TerzievMonday, 30 January 2023
super loud, I mount on my scooter. really good.
ByWerner SchmolkeThursday, 26 January 2023
I have two of fedog horn ,I really like it .will buy more for friends.
ByALFONSO DUQUEThursday, 26 January 2023
just received. will comment after mounted.
ByPeter HercegThursday, 19 January 2023
will review after mounted. but seems good .
Bychen simhonyThursday, 19 January 2023
I love it . easy mouting with long cable ,will suggest to my friends.
ByDaniel Jörg SchuppeliusWednesday, 04 January 2023
ByDannyMonday, 02 January 2023
ürün çok güzel dusunenlere tavsiye ederim. ve güvenilir satıcı. herşey anlatıldığı gibi. ve ürünu çok beğendim ilk alirken tereddütte kaldım acaba sesi azmidir diye ama geldiğinde iyiki almışım dedim. sesi motorsiklet kormalarina benziyor hatta ürün içinde 12v 1.5a motorsiklet kornası var. ve düğmeye basıldığı kadar çalıyor yani normalde bir korna gibi çalışması. yolda giderken ika etmek için çaldığında yürüyen yayalari korkutuyor ve trafikte araçlar şaşırıyor ses nerene geldiğini bilemiyorlar. Alacak kişilere tavsiye ederim. ürün beklentinin üstünde çıktı. ayrıca alarm özelliğin olması daha bir ayrı güzel oldu. bisiklet üstünde ayrı bir alarm almanıza gerek yoktur kendi alarm fazlasıyla yeterlidir. teşekkürler
By Ura BondarenkoSunday, 01 January 2023
ByGeorgeSaturday, 31 December 2022
Excelente producto lleno todas las expectativas
ByPeter-Paul OostveenFriday, 30 December 2022
ByHains RobThursday, 29 December 2022
it is easy to mount and wire connection .
By Hains RobMonday, 26 December 2022
Amazing ,easy to mount and use .
ByCosmin VSunday, 25 December 2022

Your cart is currently empty.